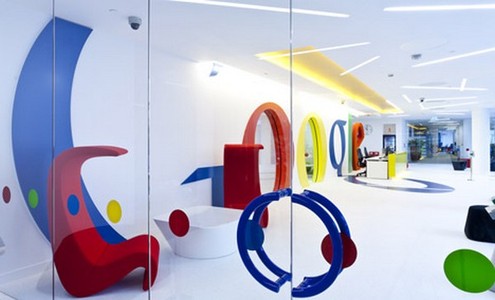 What makes a company the most desirable place to work? Is it the money, the mission, the name, the perks, the culture or a little bit of everything? Every year Forbes, Fortune and the Partnership for Public Service with Deloitte answer this question using different metrics in "The Best Companies to Work For","100 Best Places to Work", and the "Best Places to Work in the Federal Government" respectively. However, with slimmer salaries and employee morale at an all-time low, can government truly compete with the most engaging companies in attracting the brightest minds from around the country? Surprisingly, yes. Government can innovate from within and become a more attractive work destination, by improving employee morale and work life balance strategies like Google.
Employee Morale Dilemma
According to a 2012 report conducted by the Partnership for Public Service, federal
employee morale
has dropped to its lowest point in nearly a decade. David Dye, the federal human capital practice director at Deloitte said that, "There is a large morale disconnect between Senior Executive Service members and rank-and-file federal employees." SES members scored an 82.6 on the 100-point scale survey, which is nearly 22 points higher than the entire government workforce. This example shows that there is an incongruous rift between leaders and their team. There are many possibilities for the descend, but one of the reasons, according to Dye is that "There's a younger set of emerging leaders that think differently, like to be trained differently, learn differently, and like to be rewarded differently. This is now an opportunity to think and act differently on how we communicate with folks and engage them to support agency missions." If this decline remains untouched, the downward trend will harm the reputation and profitability of agencies, because federal employees, like their private sector counterparts are the most valuable assets of an organization. As a result, agencies need to bridge the gap with young leaders in order to attract a new wave of creative, entrepreneurial and out-of-the-box thinking candidates whose individual and team achievements will contribute to the overall success of the federal government.
Government vs Private Sector Employee Satisfaction Index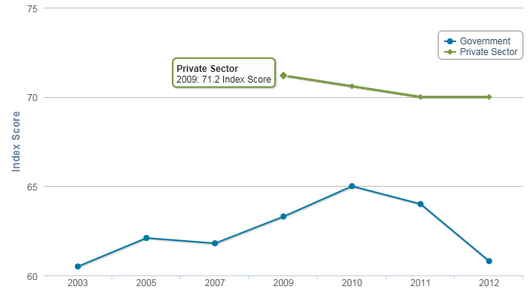 Engaged, Enabled and Energized
According to the authors of, "All In: How the Best Managers Create a Culture of Belief and Drive Big Results", employees who are
engaged, enabled, and energized
are up to three times more productive than employees whose companies have low engagement scores. In the case of Google, employees are engaged with the company's mission; as a result, they perform at optimal levels. The tech giant does an even better job at enabling its talented and dedicated staff to generate high quality deliverables by cultivating a productive yet amicable culture and work environment, where creativity and innovation is always welcome. Finally, Google energizes its own by providing unbelievable perks such as: its seven acre sports complex, free gourmet lunch and dinner meals every day, subsidized massages, time off to work on projects employees are passionate about, and free onsite childcare. Therefore, Google's employee efficiency and effectiveness is no accident. The question is how can government implement this triple E model?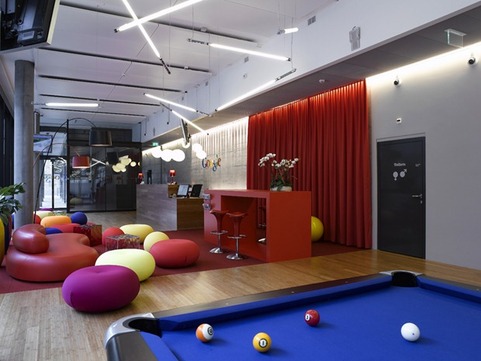 The Solution
What if I told you that the Google of Government already exists? Introducing, the Treasury Department Recreation Association. This self funded, social entrepreneurial organization believes in making the massive 100,000 plus agency seem small to employees by promoting and sponsoring wellness, educational, recreational and cultural activities (WERC). Some exclusive perks include: the on-site gym, inter agency happy hours, speaker series with Senior Treasury Officials and international business leaders, pictures with the Secretary of the Treasury, signed bills from the US Treasurer, non-monetized shredded U.S. currency gift packs, Treasury memorabilia at the Treasury Gift Shop and financial education activities such as the portfolio challenge, which educates participants on how to execute stocks, options and foreign exchange transactions. TDRA also aims to foster connectedness and interest among coworkers by empowering employees to lead other colleagues in fun activities such as the intramural softball and tennis teams, the scavenger hunt, the bulls and bears book club, and tours of The Treasury Department or The Bureau of Engraving and Printing.
As a result of great management together with the birth and constant innovation of the TDRA, the Treasury Department is currently ranked in 4th place for the
Work Life Balance
and the
Alternative Work and Employee Support Programs
categories in the "Best Places to Work in the Federal Government" rankings. Despite the noteworthy 2012 rankings, TDRA is looking for new opportunities to make an even greater impact in the upcoming years. It will focus on fun events that support family involvement such as Nationals baseball games, DC United Soccer games, community service days and 5K runs. In addition, it will look to launch yoga classes at the on-site gym, an intramural soccer team, a golf team and wine tasting events. But that's not all; it's establishing an employee only WERC campaign, where staff will be able to recommend their fun ideas online and track its implementation progress.
Government can become a more desirable place to work, but only if it continues to innovate and learn from different industry leaders. Google is not the best company due to perks alone, rather because it engages, enables and energizes its employees better than the competition. Unfortunately, government salaries cannot compete with the private sector, but where it can compete is in work life balance and employee morale. In order to do this, federal agencies must first do a better job in engaging employees with the mission of their organizations, because it will bring them satisfaction to know that their work is making a difference in the country. After they are engaged, the organization must enable employees by creating a culture around boosting morale and work life balance in order to enhance quality and effectiveness. Finally, agencies must energize their employees by providing great outlets where memorable experiences can be cherished.